Diary of a Wimpy Kid: The Meltdown
Written by Jeff Kinney
Illustrated by Chad W. Beckerman
Reviewed by Aiden M (age 8)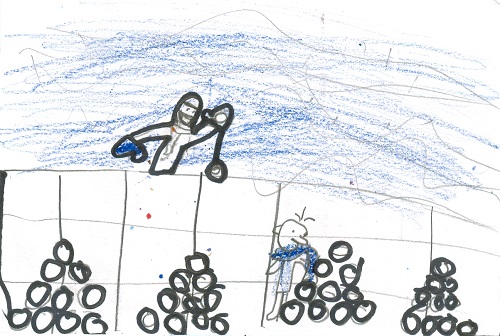 Do you like to laugh? Well this is just the right book for you. This is a book about a boy named Greg and a best friend named Rowley. It is a book about a snow ball fight between upper Surry Street and lower Surry Street. Greg is on upper Surry Street. The lower Surry Street will not let the upper Surry Street come down where the snow is. Will they make it out?
I liked how the author put the pictures in black and white because if I look at the picture, I can not figure out what is going on because it is so bright. I love the way the author writes his story because when I read one book, I have to read another book. My favorite part is when they get a snow ball to the face and the teammates take over.
I recommend that you should read this book because it only has 217 pages. I think ages 7-10 should read this book. If you like comedy this is just the right book for you! You should go run to the library but be quiet and get the book.