A-Z Mysteries: The X'ed-Out X-Ray
Written by Ron Roy
Illustrated by John Steven Gurney
Reviewed by Valentin LB (age 8)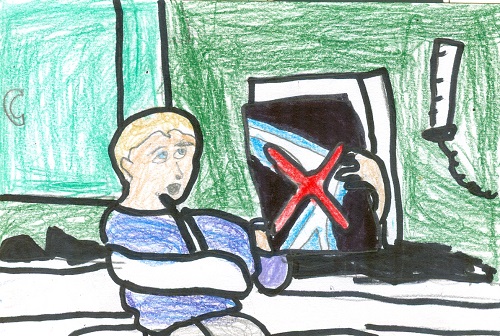 Dink, Josh and Ruth Rose are having an excellent time at Penelope Gwinn's concert. But during an intermission … Dink breaks his arm! At the same time the singer's diamond is stolen! Will Dink Josh and Ruth Rose be able to find the diamond in time?
I liked this book because I like mysteries. My favorite part was when the singer's diamond was stolen. I liked Dink because he is the one who always solves the conclusion. Josh reminds me of myself because I like to joke around and I like to eat. Josh changed in this book because he always jokes around but in this book he got focused on the mystery. The illustrations are very good. The author uses pencil and sharpie pen. This book is unique because it has very good vocabulary. The genre is mystery. Do you like mysteries? Well then this is the right series for you.
I recommend this book to 2nd and 3rd graders. It makes you want to read ahead to the next page. The genre is mystery. This is why I recommend this book. It has 83 pages.