The Mystery in Washington D.C.
Written by Gertrude Chandler Warner
Illustrated by Alfred Giuliana
Reviewed by Kelley W. (age 9)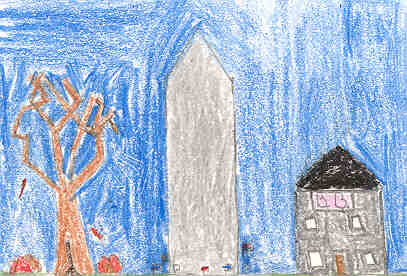 The Mystery in Washinton, D.C. is about four children named Henry, Jessie,Violet, and Benny Alden. The Aldens were going to take a trip to Washington. The Aldens and their grandfather were driving down to a B.B. (bed and breakfast) in Washington D.C. While they are there they meet two new friends. Some antiques are stolen from the B.B. So the Aldens thought they should go right into the mystery. There isn't just one mystery there are two mysteries in this book. To find out what happens next read the book.
My opinion of this book is that all the characters are funny, and I think they sound real. I couldn't put this book down because it was so good. In the book I think Violet sounded like me. I thought this book was the best ever. I thought it was great because of all the mysteries in it. My favorite part of this book was when they were in the museum.
I recommend this book for people of all ages. I think younger kids would enjoy hearing about Benny. This book can interest you because of all the places the Aldens go and the things they do. I recommend this book for people who like mysteries also, or for people who like the Boxcar Children.