Fog Magic
Written by Julia L. Sauer
Reviewed by Sara D. (age 10)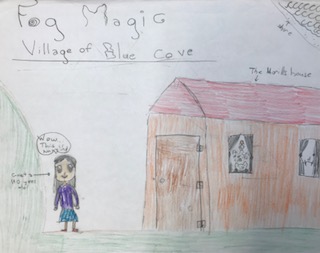 Fog Magic is about a girl called Greta. All her life she loved the fog. One day in Little Village she asked her mom if she could go over the mountain. Her mom was worried because it was very foggy, and she did not want Greta to get lost. But in the end her mom let her go. Greta went over the mountain and saw the dark outline of a house in a cellar hole where no house stood for at least 100 years. Then she figured out it was the village of Blue Cove!!!! She met the Morills and she made a new friend Retha. The Morills had a cat called Princess. What will happen next?
My favorite part was when Greta got to keep one of Princess's kittens. Because she never got to keep or get a pet for herself and the kitty was VERY, VERY FUZZY! Yes, there is something unique about the book and that thing is that there is a lot of detail and expression. No, this book is not like any other book I read because it has a different feeling when I read this book. I felt happy and surprised. It made me feel like I was actually going to have a walk inside the book.
I recommend this book because it is very real, unique, and surprising. The audience who would like this book is an audience that likes mysteries. How it is mysterious and surprising at the same time. It is also has 3 different main characters and its setting is in Blue Cove village.