Unschooled
Written by Allan Woodrow
Reviewed by Lachy N. (age 10)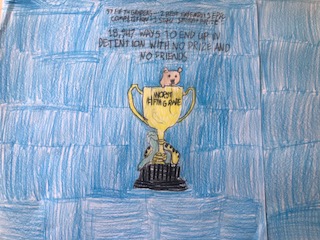 This book is about 2 best friends named George and Lily. They are 5th graders. Every year in this book 5th grade has a spirit week (red vs blue). George and Lily are on separate teams. When the principal was choosing captains Lily for team red put her hand up. For George's team a random girl raised her hand but as she was chosen she fell and broke her arm. George then raised her hand because she didn't know her arm was broken. George and Lily were team captains George was the nerdy and very organized person. Lily is more of a messy very serious person. Things went down hill fast there was cheating and fighting and the beginning of the week started it all.
I think the author was trying to tell people to not cheat and have good sportsmanship. I think this book is very interesting. Lily and George go back and forth being friends. I love this book because I am in 5th grade, there is a competition, it's about a school, sportsmanship, and it is very funny. My favorite part was when …..... (I don't want to give it away) won because all the stress was over and Lily and George became good friends. When I was reading the book I felt excited because I wanted to know who would win the competition. It made me wonder what if Lily wins and she brags and she is not friends with George anymore or if George wins what if Lily wont forgive her and they become enemies. This book reminds me of a baseball game when 1 team was crushing us but then we came back and beat them in the last inning.
I recommend this book to people that like competition because there is a lot of competition in the book. I recommend this book because it is awesome and interesting. I think you will be interested by how 2 people who are totally different are best friends, and how they are on different teams and almost always hate each other.