Fantastic Mr. Fox
Written by Roald Dahl
Reviewed by Sara L. (age 9)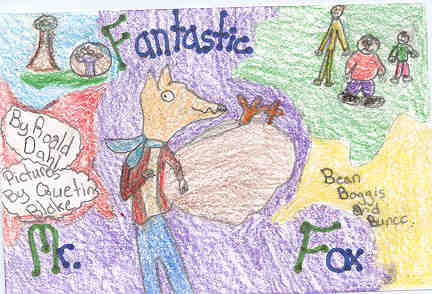 Fantastic Mr. Fox is a very good book about the Fox family. The family is Mr. Fox, Mrs. Fox, and their cubs. Every night Mr. Fox creeps out from the hole to get dinner for his family. There are 4 choices of a main course and one drink. The main courses are chicken from Farmer Boggis, duck and geese from Farmer Bunce, or apples, which came from Farmer Bean. The cider also came from Farmer Bean. Mr. Fox goes out one night and - Oh no, Mr. Fox forgot about the 3 farmers he was stealing from. BANG!!!! Is Mr. Fox okay? This is just the start of his problems. What is Mrs. Fox going to do with her other cubs and herself to feed? Read this book to find out.
I think this book was really good because it was interesting and I didn't want to stop until I was finished. A book for me is never good without being illustrated, but this one had hilarious pictures. I also like the book because it reminds me of hope. It does because there is always hope throughout the story. If you already read this book read it again because it's GREAT!
Fantastic Mr. Fox is a great book for kids who like to learn and adults should also read it to bring back memories of childhood. Whether you like chapter books, small books, or big ones I'd say this one is for you. I also recommend this book because it is easy to understand and it doesn't let you off the hook. That is why I recommend Fantastic Mr. Fox.