Sarah and the Sunday Fairy
Written by Daisy Meadows
Reviewed by Briana V. (age 8)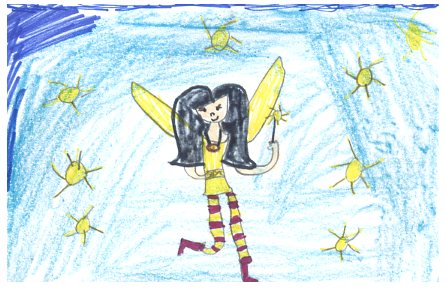 Rachel and Kristy always want to help the fairies out with there problems.This book is a adventure book that has different fairies in it. In the book there are these goblins that like to spoil and take Rachel's and Kristy's things.Find out how they fix it.Jack Frost made the goblins and these goblins are for trying to spoil Rachel and Kristy's day so Sarah the Sunday Fairy comes to help.
The book is interesting because there are a lot of adventures in one book. It's a "pretty" book because the fairies are so pretty and colorful. It's a funny book, one example is that the goblin's nose looks really funny. It is long and skinny.
I think that a kid that really loves Adventures would like this book, especially a girl. I also think that a kid that loves fairies would enjoy the story. A Teacher that likes to do read alouds could read this to her class. Students ages 7-10 may like the book. It's a chapter book. I hope you like it too!