Diva and Flea
Written by ??? Willems
Illustrated by Tony Diterlizzi
Reviewed by Anna S. (age 8)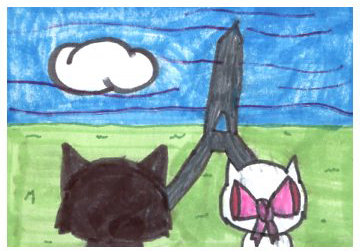 Did you ever wonder what it's like in Paris? Well Diva and Flea are pets in Paris! Diva is a small dog that lives in Paris. Flea is a cat. He lives in Paris too! He is a flaneur. A flaneur can be anyone(or any cat) that walks around just to see what there is to see. Flea has seen everything but a good flaneur still looks for more. Flea does not have any real name or owner. But when people see him they call him puss or kitty but he likes the name Flea. Diva wears a bow everywhere! She is a guard dog so if she sees anything different she barks and runs away. She is VERY good at her job. That's how they met.
My feelings about this book are all good. I re-read it almost every night because I enjoy it so much and never get sick of it. My favorite part is when Flea describes the Eiffel Tower to Diva. He says it's like a big knife that can cut a cloud in half like salami mmmmm salami.The book is over all just funny because the main characters are opposites but somehow they get along. They become friends. Their friendship leads to many other things that happen to them which makes the story interesting.
I recommend this good book for ages 6 to 10 years old because it is a reasonable chapter book and interesting enough to keep kids reading.