Betsy - Tacy
Written by Maud Hart Lovelace
Illustrated by Lois Lenski
Reviewed by Shae D. (age 10)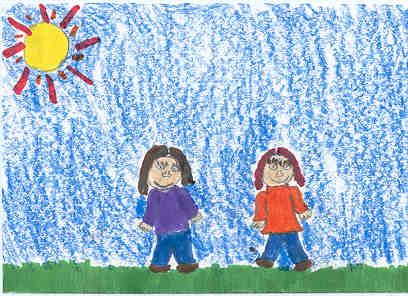 Happy Birthday Betsy! It all began at Betsy's birthday party. She invited a girl named Tacy. They became best friends. They went on many adventures together. One time they pretended they were adults. Another time, they made a sand store. They sold colored sand to people. Then one day a girl named Tib moved in. She lived in a chocolate covered house. Betsy and Tacy always wanted to know who lived in there. Betsy and Tacy's sisters really liked Tib, but Betsy and Tacy were not sure if they liked her. If you want to find out if they ended up liking Tib, read this book.
I thought this book was funny. The two girls always kept me interested. I enjoyed this book because Betsy and Tacy never stopped making me wonder what would happen next. My favorite part of the book was when they pretended they were adults. This story reminds me of when I was in preschool and I didn't know anyone. Then I met a girl and she made me feel comfortable.
I recommend this book because it teaches you how important friendship is. If you like Maud Hart Lovelace, you would like this book. Maud Hart Lovelace writes fun-filled books. If you have not read any of her books, you should read one. I think this book will interest you if you like books that are fun and have happy endings. If you read this book, I hope you like it. I did!