Galaxy Zack Monsters in Space
Written by Ray ORyan
Illustrated by Colin Jack
Reviewed by Celia B. (age 9)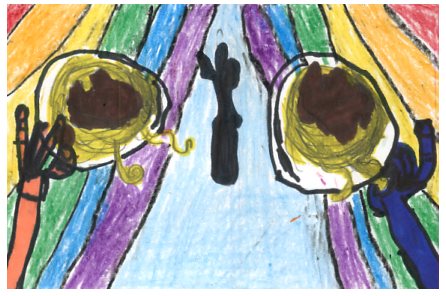 Galaxy Zack Monsters in Space! by Ray O'Ryan, illustrated by Colin Jack, is a science fiction story that takes place on planet Nebulon about 100 years from now. In the beginning Zack is late for school. When he gets there, he finds a big monster named Al in his seat. Not just any monster, but a purple furry monster with green patches, five eyes, and floppy ears. Zack eventually makes friends with the monster on the space bus on the way to the cafeteria for lunch. He realizes they have a lot in common. In the first book in this series Zack had to leave his home planet, Earth, and leave his best friend Bert to go to Nebulon for his dad's job. In this book Zack and Drake, Zack's best Nebulon friend, go to Plexus with Al to visit for the weekend. Zack discovers a whole new world. The people are every shape, size, and color. While he is there they explore Al's cave house and Zack finds that they also have Ira (Indoor Robotic Assistant) just like on Nebulon, and they meet his family and Zack tries eating something new that looks like worms, but it turns out to be chocolate covered noodles. At the end of the sleepover, Zack has to go home to Nebulon. Will Zack see Al again? And will Zack get to ever see his best friend, Bert, from Earth again? Read the book to find out.
Galaxy Zack Monsters in Space! is an interesting book with great illustrations that show how the characters are feeling. My favorite picture is when Zack gets home from school. He is so happy to see Luna, his dog that he forgot there was a monster in his class. The picture shows Zack running to Luna and Luna is jumping to greet Zack. They both have great big smiles on their faces. My favorite part is when Zack, Drake, Al, and Al's family go to dinner and Zack and Drake try something new. Zack is given a plate of twisty noodles. Zack was worried that they would taste like worms because that's what it looked like. Even though he was nervous, he tries some and he says that they taste like chocolate covered noodles and Al exclaims, "That's because they are chocolate covered noodles!" I like it because Zack is brave enough to try them even they look like worms. I like Zack because he becomes more open-minded about how people look. At first when he sees someone different like the monster in his seat, he's thinking it's a monster but then he realizes he was just another person. Once Zack got to know him, they become friends. He also did that with Drake, the friend he made in the first book. Drake is blue, has long arms, pointy ears, and is very tall. It shows you shouldn't judge a book by its cover. Those are some reasons why I liked it.
I recommend this book to first through fourth graders who like to read about people making friends and who like learning about accepting others who are different. Zack has to learn to accept people who look a lot different from him. No matter how somebody looks or what they eat, you still have to respect them no matter what. This book is really good so go check it out.