The Worst Name in Third Grade
Written by Debbie Dadey
Reviewed by Alison Z. (age 8)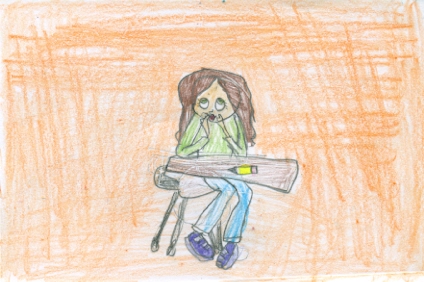 This book is about a girl and her name is Bridget Butt. She hates her name. Bridget loves her teacher because she makes her feel better about her name. When Bridget finds out her teacher is moving she gets sad. When other kids laugh at her, her teacher will not be there to stop them. At first, Bridget does not like her new teacher. Does she change her mind? Will things ever get better for Bridget Butt?
This story reminds me of my life when my cat got sick and went to the vet. My sister and I were sad because she got sick. My favorite part was when Bridget and Amanda where friends again because it is nice to have your friend back. I have been in a fight with my friend and we became friends again, so I know how she feels. When was reading the story it made me feel happy and sad at the same time. It made me happy in the beginning of the book at the end of the book it was sad because their pet Bobo is sick.
I think other kids should read this book because it is funny and sad at the same time. There are not that many pictures in the book so you can visualize what the book is about. I think third graders should read this book because it is about a third grader. I think the most interesting thing in this book is that the character is Bridget Butt and she is very embarrassed about her name.