Ready Freddy Shark Attack
Written by Abby Klein
Reviewed by Lucca P. (age 9)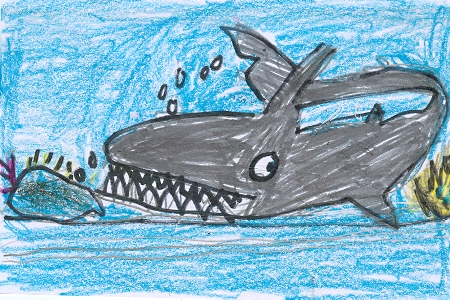 Are you an expert at something? Freddy/ in Shark Attack goes on a class trip to an aquarium. Whoever answers all the questions right about sharks wins a prize. Everyone thinks Freddy is an expert and think he will win the prize. Freddy is not sure! Do you think Freddy wins the prize? You'll have to read the whole book to find out!
I like the character Freddy because he loves sharks and I enjoy learning and looking at sharks. They are cool and interesting creatures with very sharp teeth. I also liked the book because at the end of the story the author included Freddy's Fun Pages that shared his journal entries about shark facts. This book reminds me of the time I lost my shark tooth necklace just like Freddy. I went to an aquarium with my family to see cool underwater creatures. My parents bought me a shark necklace from the souvenir store. I lost the necklace in the aquarium but was lucky to find it.
I think other children should read this book because it is a really good book and it's a book in a series. You can read other titles to see what other silly things Freddy gets into with his friends. Any child in grades 2 through 4 that like a series. Freddy had many silly stories to enjoy such as the Science Fair Flop. I think children who are reading this book will enjoy how Freddy and his friends get into unusual situations.