A-Z Mysteries The White Wolf
Written by Ron Roy
Reviewed by Antonio V. (age 9)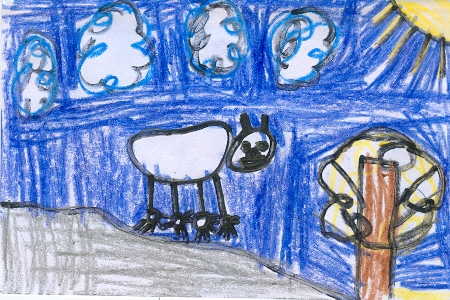 Do you like mysteries? Do you like wolf cubs? If you do, then this mystery about missing wolf cubs is the book for you. Dink, Josh and Ruth Rose are visiting Wallis Wallace in her cabin in Maine. The kids notice a white wolf and her cubs on a nearby cliff. Before you know it, the cubs go missing. Who is the culprit and where are the cubs? Read the book so you can find out.
My point of view is this book is so exciting. This book was exciting because it kept making me predict what will happen next. It had me on the edge of my seat. My favorite part of this story is when they found the baby cubs and they brought them back to the mother wolf. I liked this part because it made the kids happy to reunite the mother and her cubs. It was interesting when Abbi saw people in the woods stealing the cubs. If you like mysteries, you will enjoy this book.
I recommend this book because if you like wolves, you will love this book. I think my class would like this book because when the kids find out the wolves are missing, it may make them want to figure out the mystery.This book is exciting because it will keep you guessing and it makes you want to keep reading.