Real Friends
Written by Shannon Hale
Reviewed by Maya R. (age 9)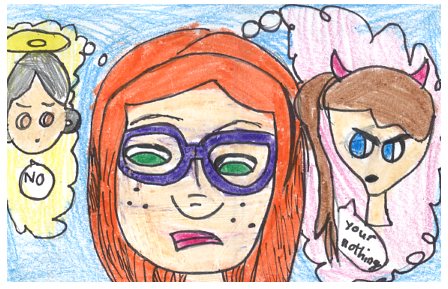 In the book Real Friends, Shannon had no friends but she had her mom, until she started preschool. But Shannon finally found a real friend! Then Shannon has no friends in fifth grade again. She broke free from the chains of a group that captured her she escaped. Will Shannon have a trustworthy friend or will she be alone for the six grade? Read the book to find out. Have fun reading!
It was a splendid book because Shannon has a hard time at school and that's okay that's the best way to grow. I also loved it because I had a friend like Adrienne, her name was Kalley and she has not been in my class since first grade. The book was wonderful because Shannon is understandable she went from friend to friend every time. However, she was okay with them leaving her too.
Kids who are second grade up to six grade should read this book because it has hard words for younger kids. Kids who like a good comic would enjoy this book so much and also would learn more about kindness. Kids who are having a hard time with a friend should relate with Shannon. She stood up for herself and it's all about friendship and a good way to find a friend. PS Just don't do what the girls did in the beginning of the book.