Room on the Broom
Written by Julia Donaldson
Illustrated by Axel Scheffler
Reviewed by Annabelle C.S. (age 8)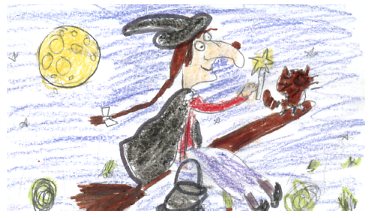 In this book, the witch's hat blows off her head, she lets go of her wand and her bow falls off! The dog finds the witch's hat, the bird finds the witch's bow and the frog finds her wand. The animals ask if they could go on her broom and the witch says, 'Yes!' every time. You should read this book to find out who else gets a ride on her broom.
I like the book because it's a rhyming book. A rhyme has a beat and so does music which I like (a lot!). Another reason I like this book is how the animals help the witch and then she does something in return. For example, the dog finds the witch's hat and the witch lets the dog ride her broom. The last reason I like the book is that it is about make believe stuff like witches and dragons.
I would recommend this book to my friend Zella because she likes make believe stuff (like fairies). I would also recommend this book to my music teacher because the book is a rhyme and rhyme has a beat. I would recommend this book to my library teacher so she can read this book to other classes in the school.