What Do You Do With a Chance?
Written by Kobi Yamada
Illustrated by Mae Besom
Reviewed by Jack P. (age 7) & Sebastian E. (age 8)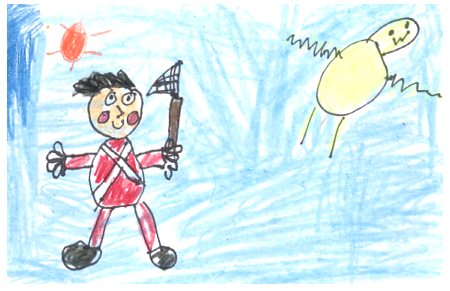 This book is about a boy that doesn't give up. At first, he wanted to take a chance but he was unsure and he waited too long and it flew away. Then he tried but he fell and he felt embarrassed because everyone around him saw him fall. So any time he saw a chance he would just ignore it. Then the chance left and he didn't see one for a long time and he felt bad because he didn't grab or take it. Until one day he didn't see any chances go by. He went to a junkyard and built a net to catch a chance and went out to find one. Read the book to see if he catches a chance.
The lesson in this book is if you see a chance go by GRAB IT because it might turn out to be something incredible, great and amazing!
We wondered if the main character was a boy or a girl. It is good book because it tells you what to do with an opportunity (Sebastian). I kind of liked it because it has a lot of funny illustrations like the one of a grandma where she looks funny. (Jack) This book is kind of like "What Do You Do With a Problem?" because it is about making opportunities.
We recommend this book to kids in kindergarten to 5th grade because a lot of kids in those grades have opportunites take chances and deal with problems.