Magic Tree House Stage Fright on a Summer Night
Written by Mary Osborne Pope
Illustrated by Sal Murdocca
Reviewed by Adriana G. (age 7)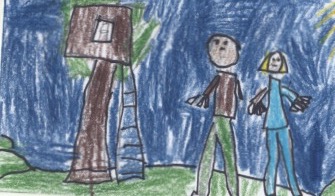 Jack and Annie are from Frog Creek, Pennsylvania. They had found a magic tree house full of books and now they are helping Morgan Le Fay from Camelot to solve mysteries. This time they are going to Britain in 1600. They crossed the London bridge and along the way they met a bear in a cage that said Dan the Dancing Bear. They wanted to let him out but the owner was too fierce and scared them away. As they were reading their research from his book, a man heard him reading and wanted him to be in his play, A Midsummer Night's Dream. They said yes and then followed him into the theater and if you want to know the rest you will have to read it.
I love this book because it is like reading about a play called A Midsummer Night's Dream. It is also my favorite book because it is very exciting because they are in London and it is also fun because it is like fiction but you are still learning some things. My favorite part is when Jack read his script on the stage. Jack reminds me of myself because he likes to read and I do as well. This book is unique because it has rhymes in it. This book reminds me of the time I went to a play and when I walk in Central Park because there is a place where you can can watch Shakespeare plays.
I recommend this book for kids that like magic, kindness and generosity. I also recommend this book for kids in grades 1-4. If you like theater stuff you will like this book.