Mr. Putter and Tabby Row the Boat
Written by Cynthia Rylant
Illustrated by Arthur Howard
Reviewed by Rashada S. (age 6)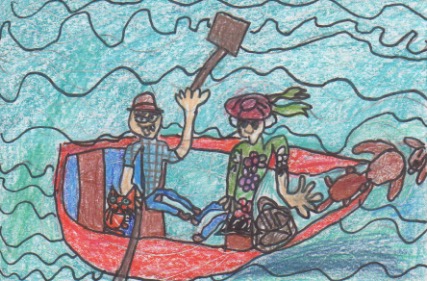 This book is about an old man and an old cat named Tabby. Her owner's name is Mr. Putter. They feel hot! Their neighbor's name is Mrs. Teaberry. Even her dog, Zeke, tried to drink the water. Tabby bats at the water bug. Mr. Putter spots a lot of trees that will bring lots of shade. They were at the pond. Mrs. Teaberry took off her hat. Many fake red grapes were gone, but she doesn't cry or mind. She scoops up water and dumps water on Zeke's head. They eat up and tell stories. Read the rest to find out what happens.
Children will be eager to read Mr. Putter and Tabby, Row The Boat. This book is about the summertime and most children love the summer because you get to have a break from school and just have fun. Summertime is a great time to have a vacation or go visit your family. Mr. Putter and Tabby along with Mrs. Teaberry and Zeke have fun outside adventures in this book. These adventures were exciting and made me want to go on them.
People who like outside adventures would enjoy reading this book, because adventures are exciting and Mr. Putter, Tabby, Mrs. Teaberry and Zeke walked to the big pond and went rowing in a rowboat. Second graders would enjoy reading this book because they will think its fun to read. They will be able to read all of the words and understand them.