Cam Jansen and the Mystery of Flight 54
Written by David A. Adler
Reviewed by Shiri P. (age 7)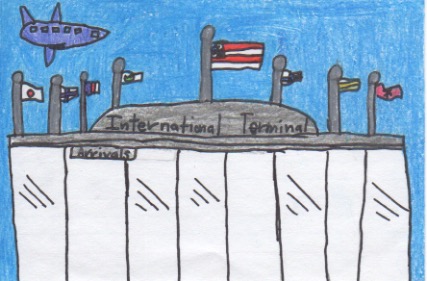 A kid named Jennifer has a mental camera in her mind. Her friends began to call her The Camera, but soon they shortened it up to Cam. Cam and her friend, Eric, were going to pick up Cam's Aunt Molly. Aunt Molly loses her suitcase, and Cam and Eric meet the Greens, a family that was looking for their niece, Simone. She didn't even speak English! Cam's family was planning a party for Aunt Molly. When she got home from the airport, family and friends would pop out of hiding places and surprise her! Will Cam find Simone and her aunt's suitcase? Read the book to find out!
I like this book because it is sad and then feelings change to happy. That makes me happy. My favorite part was when Cam goes down the escalator and she sees a girl with a black ponytail going up the escalator. Cam thinks, "That must be Simone!" When Cam gets off the escalator, she goes up it. She looks for Simone. She thinks she finds her. Cam tells her, "Merci, Simone." That girl did not understand her. Something unique about this book that is different about all the other Cam Jansen books I have read is there are two mysteries or problems in this book instead of one. I wonder why the author did that? Maybe he wanted to change things up a little bit? A lesson I learned in this book was if someone that is coming from a different country (in this case, France) try to meet them right when they get off the plane so they don't get lost like Simone did.
I recommend this book to people who like mysteries. You might be interested in reading this book because it has two mysteries to solve. You might wonder how to solve both mysteries and maybe you'll figure them out. If you like books with many details and if you like to solve problems, you should read this book. I think you will like the very detailed illustrations.