The Berenstain Bears' Class Trip
Written by Jan and Mike Berenstain
Illustrated by Jan and Mike Berenstain
Reviewed by Samantha S. (age 7)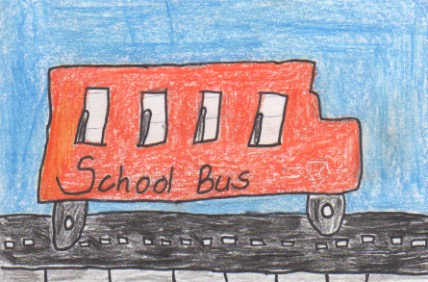 The Berenstain Bears' Class trip is about Brother Bear's class trip to Honey Farm with Mama, Papa, and Sister Bear. On the way, they can't stop dreaming about all that honey, especially Papa Bear! Sister asks, "Are we there yet?" "We will be there soon." says Teacher Bob, Brother Bear's teacher. When they get there, the whole class sees bee hives! Sister Bear asks, "How do they get the honey?" Papa Bear said, "I'll show you." He opened one of the hives. The bees went everywhere! Teacher Bob took the class quietly to a room and slammed the door. "This is how you really get the honey." said Teacher Bob. Wonder what happens next? Read the book to find out.
I like the part when Papa Bear gets honey all over himself because I thought it was funny. I like Papa Bear because I think he's funny and clumsy. I think it is nice of Mama and Papa Bear to be teacher's helpers. I like when Mama offers Papa a sample of honey because I think it's nice of her. I like the illustrations. They really go with the story. I also like the expressions the writer used. For example, when Papa said, "I have already had my sample!"
I recommend this book if you like fiction. I think you will like this book if you like exciting books because the Berenstain Bears go on a really amazing trip! If you like funny books with silly dads, you will for sure like this book. I think you should read this book because it is about a family that does many interesting and exciting things. I think you will like the part where the cubs learn about how the bees make honey. I also think you will like when Mama gives Papa a sample because it's nice of her. The Berenstain Bears' Class Trip will definitely make you laugh!