Dr. Carbles is Losing His Marbles!
Written by Dan Gutman
Illustrated by Jim Paillot
Reviewed by Roman B. (age 7)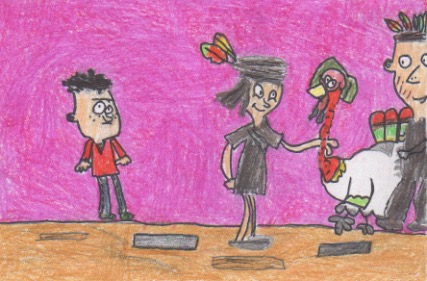 Apparently, Dr. Carbles, the president of the Board of Education, has fired Mr. Klutz, their principal. Also, Mr. Klutz is Dr. Carble's brother. They were both skateboarding champions and Dr. Carbles has been trying to get back at Mr. Klutz for calling Dr. Carbles "walrus face." Dr. Carbles has fired Klutz for calling him a silly nickname. The way they get to Mr. Klutz is LITERALLY by driving to his house. They also try to protest, and unfortunately Dr. Carbles has a tank. I'm not going to tell you what Mr. Klutz has in his house.
Okay, I'll tell you. A HALF PIPE!...for skateboarding. Find out more by reading this book.
I LOVE IT! My favorite part was when they revealed that Mr. Klutz had a half pipe in his living room! I LOVE humorous books. The unique part about this book is I DO NOT THINK ANY, ANNNYONE ELSE EEEVER wrote about the President of the Board of Education firing a Principal. Dan Gutman's humor in this book is similar to the humor of Dav Pilkey, my favorite author.
I think anyone that likes mystery books (yep, this is sorta like a mystery book!) would like this book. Anyone that likes school books will like it too. Grades 3 (no, I am not in third grade, so please sue me), maybe 2nd up to 5th graders would like this book. Also, if you like characters that play with words, like A.J., then maybe you will like this book. I've never SEEN a character that plays with words, but you get the idea. For example, "Grayson and I are going out to dinner tonight." A.J.: "Wait, there's a restaurant called Night?"