Young Cam Jansen and the Ice Skate Mystery
Written by David A. Adler
Illustrated by Susanna Natti
Reviewed by Jacob F. (age 7)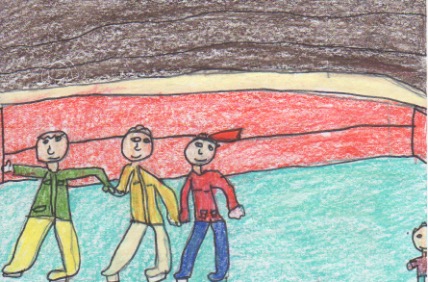 Cam and her friend, Eric, went to the ice rink. They put their stuff in the locker. They got the key. Eric's dad said, "Let me keep the key." "I want to." Eric said, "Okay." They went skating. Eric put the key in his pocket. Or did he? Eric was going too fast. He fell. Then got up and realized he lost the key. He checked both pockets. It was not there. Read the book to see what happens next!
I think the book is fantastic because it has two things that I love: ice skating and hot chocolate! My favorite part is when Eric skates too fast. It was kind of scary and I said to myself, "Aaaahhhh!" Cam has an amazing memory. This story reminds me of when I went to the ice rink and I skated too fast and fell because it was just like Eric. I like the pictures because they were colorful and unique because the pictures are drawn in bubbles.
I recommend this book to 1st to 4th grade kids who like mysteries because all of the Young Cam Jansen books are about different mysteries that Cam and her friends try to solve. People who like ice-skating would also like this book because they would understand everything that Cam and Eric are talking about. I enjoyed Young Cam Jansen and the Ice Skate Mystery, and I think you will too. Happy reading!