Poppleton in Spring
Written by Cynthia Rylant
Illustrated by Mark Teague
Reviewed by Anaïs H. (age 7)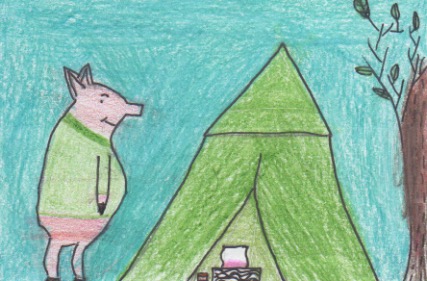 In chapter one, there are two characters: Poppleton and Cherry Sue. Poppleton was spring cleaning. He gives away his stuff that he does not use anymore. Cherry Sue put Poppleton's old stuff that he gave her in her attic. Poppleton's house is full with stuff again! In chapter two, there are two characters: Poppleton and Marsha. Poppleton went to a bike shop. He went to have a look at the bikes. Marsha asked Poppleton what color bike he wanted. He said red. Marsha asked, "What type of red?" Poppleton said, "Red red. Nooooooo!" Poppleton ran home. He decided he would just run everywhere he needed to go. In chapter three, there are four characters (three main ones). In spring Poppleton decided to sleep outside in a tent. His friends think he is silly. Whenever someone passed by, they thought he was going to get chilly. One night someone else decided they want to sleep in a tent with Poppleton. Who do you think that was? Read the book to find out!
I love this book because at the end of every chapter, it is funny, especially when Poppleton spring cleans, which is chapter one. I also like that Poppleton is a very silly, weird, and funny character. I like that at the beginning of chapter two, Poppleton really thinks very hard about getting a bike or not getting a bike before he decides what to do. I love the Poppleton series!
If you read Cynthia Rylant books, I recommend this book. I also recommend this to kids who like funny stories. I think grades kindergarten up to 3rd grade and ages 5 through 9 would enjoy this book. Kids who like books with animal characters should read this book.