Henry and Mudge Take the Big Test
Written by Cynthia Rylant
Reviewed by Raphael D. (age 6)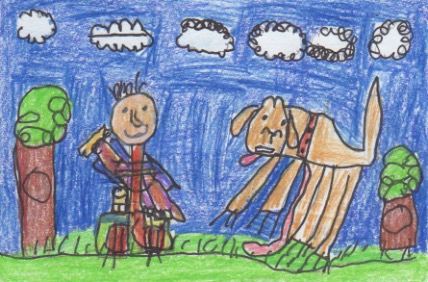 This book is about Henry and Mudge. Mudge is Henry's 180-pound dog. Mudge wasn't such a good listener, so Henry decided to send Mudge to day school. Henry got the idea from another man walking down the street with his dog. Henry tried to train Mudge, but it didn't work out so well. Henry was so devastated that Mudge had to be sent to day school. Henry thought Mudge wasn't so ready for school because Henry thought he might drool on the teacher's foot. Mudge needs more training. Find out what will happen next.
I think that Henry has trouble thinking about sending Mudge to dog school. It reminds me how I feel when my friends didn't listen to me. If I was Mudge, I would listen to my owner. I wonder how Mudge would feel if Henry were the dog and Mudge was the owner and Henry didn't listen. I think Mudge has a little lesson to learn. This book has a lesson and that is put someone in someone else's shoes. That's called EMPATHY. I think Henry feels mad and frustrated because Mudge gives Henry a hard time. An example of this is when my classmates once in a while don't listen to my teachers, Pam and Elissa. This also reminds me how some kids don't listen to their parents all the time. I like Henry because he reminds me of a TV show called Henry Danger. I also like Mudge because he sleeps a lot. This reminds me how I like to sleep. Many of the characters remind me of things in my life. For example, I always wanted a dog. This is a very good book because the illustrations are very realistic. The pictures look like it's really happening. It gives me lots of details. The illustrator is good by showing each part of the story in pictures.
I recommend this book to people that have dogs or want a dog because this book is about a dog. If you like dogs or if you like the Henry and Mudge series, read this book. If you are interested in reading about assessments, choose this book. I think the book should be for 1st through 5th graders and anyone who likes to read.