Mr. Putter & Tabby Fly the Plane
Written by Cynthia Rylant
Illustrated by Arthur Howard
Reviewed by Felix W. (age 6)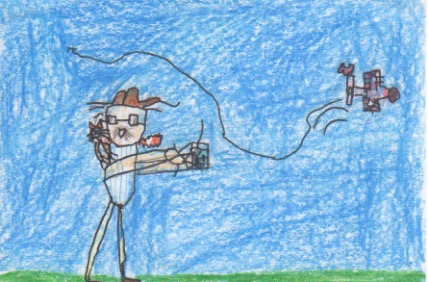 This book is about two friends. Their names were Mr. Putter and Tabby. Mr. Putter just remembered he loved planes, so he went to the toy store. Then Mr. Putter played with all the toys. He looked at the planes and he found a biplane that he never saw. He admired the biplane. The biplane was red and white. Then he bought the biplane. He was excited! Read the book for more information.
My opinion is that it's sad for Mr. Putter because grownups shouldn't like toys, but he does. I feel happy for Mr. Putter because he bought the biplane. I feel sad for Tabby because the toys scare her. I'm worried for Mr. Putter because the biplane might not work. When the plane dies, Tabby thinks it is really funny. My favorite part is when the plane dies because the plane just stops and I think it's funny. This book reminds you to share because at the end, Mr. Putter gives the plane to a boy. That teaches you to share.
I recommend this book to people who like to use radio-controlled planes because Mr. Putter bought a radio controlled plane and flew it all over the place. A reader who likes a funny book would like this book because it was funny every time the plane would crash. This book is great for 1st, 2nd and 3rd graders because a lot of young children come to watch Mr. Putter and Tabby fly their plane.