Nate the Great Saves the King of Sweden
Written by Marjorie Weinman Sharmat
Illustrated by Marc Simont
Reviewed by Emma M. (age 7)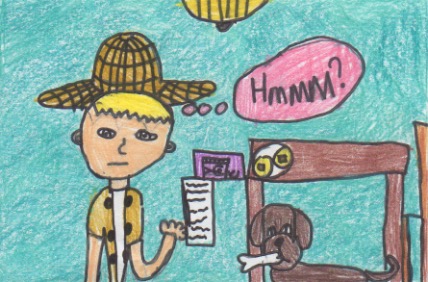 This book is about Nate, a detective, and his dog, Sludge. Nate gets a letter from his friend, Rosamond. Nate thinks Rosamond is strange because he has solved cases for her and they are always strange. At the time, Rosamond is in Norway with her cats. She buys something while she is there. She asked Nate to find the thing. This case is his first case out of the United States! After a while, Nate realizes that Sludge (while he was trying to bury his bone) was trying to tell him something. Then Nate knows where the thing is! Read this book to find out the end.
My favorite character is Sludge. I love dogs. My favorite part is when Nate realizes that Sludge is trying to tell him something. I think Nate is funny because in every book he eats pancakes and I love pancakes and so does Nate. While he is solving the mystery, he always writes a letter to his mom and I think that is strange. I think the pictures are unique because in this book, some of the pages are black and white and some are colorful. In the book there are a lot of cliffhangers and interesting parts. I think the funniest book in the series is this book.
I recommend this book to people that like mysteries because it has a lot of mysterious parts in it. Second graders through fifth graders would like this book because it is hard to read and it will interest those grades in many ways. In this book, there is a lot of problem solving, so if you like problem solving you will like this book.