The Boy with the Bronze Axe
Written by Kathleen Fidler
Illustrated by Edward Mortelmans
Reviewed by Evan A. (age 10)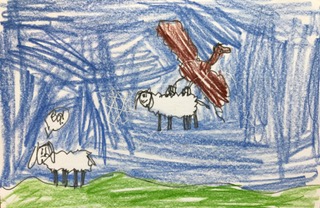 The Boy with the Bronze Axe takes place in the Neolithic village of Skara Brae. While Kali and Brockan are looking for limpets on the beach the tides come in and they are trapped on a rock. An unknown boy with a bronze axe saves them in a boat. The tribe has not seen a boat or bronze axe before. The boy says his tribe and family is dead and that he needs a place to stay, but the tribe leaders have to decide what to do with the boy.
I liked the book a lot. It had an excellent plot line and lots of plot twists. The illustrations had lots of detail. My favorite illustration was the one where the boy saves them from the tides in his boat. The illustrations were black and white. The book had some sad parts like characters dying and other sad events and some happy parts. Overall I think it is an exciting book.
I recommend this book to all audiences. If you like The Island of the Blue Dolphins, stone age books, or a book about Neolithic times you will love this book.