The Boy with the Bronze Axe
Written by Kathleen Fidler
Illustrated by Edward Mortelmans
Reviewed by Sinead O. (age 11)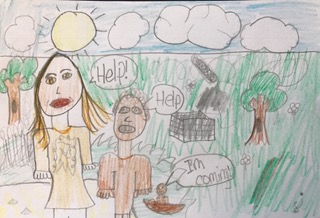 This novel is one of my favorite books! It starts out, in stone age times, with a boy named Tenko coming to another tribe. He meets Kali and Brockan who are siblings. These siblings accept him but nobody else does! The rest you must find out yourself!
My favorite character is Tenko because he comes through in the end. My favorite illustration is the killing of the whale because it shows the tribe working together to get what they need. My least favorite character is Korwen because of his personality and narcissism. My favorite part is the sandstorm because it shows how dumb some people can be.
I recommend this to people of all ages!