The Boy with the Bronze Axe
Written by Kathleen Fidler
Illustrated by Edward Mortelmans
Reviewed by Luca F. (age 11)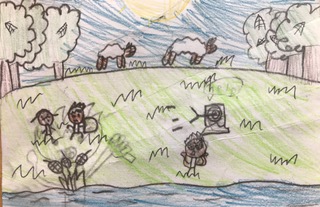 On the island of Skara, Kali and Brockan are saved by a boy from another land. The boy escaped when his tribe started to fight with another tribe. They soon discover that he has an axe of bronze and let him into their tribe. They have many adventures but some are more dangerous than they think. Doom is heading towards Skara. Can this boy save the village?
I thought this book is great! The characters are easy to remember. Kathleen Fidler really makes you think that you have gone back in time because the writing is really old sounding; like when they say winters and summers instead of saying years. The only part I didn't like about the book is that it ended with a small cliffhanger.
The book is basically stone age survival so I would recommend this book to anyone who likes survival books like Hatchet or The Island of the Blue Dolphins.