The Boy with the Bronze Axe
Written by Kathleen Fidler
Illustrated by Edward Mortelmans
Reviewed by Phoebe K. (age 11)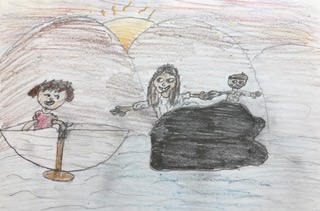 The story starts out with Kali, a 14 year old girl, and Brocken, Kali's six year old brother, searching for limpets. The tide comes in, and they get stranded on a rock. A strange boy carrying a strange axe with a strange boat saves them. His name is Tenko, and he joins their tribe. He comes from another tribe that got attacked. He is a hunter, but this tribe is mostly farmers. They go on many cool adventures. What will this boy do to the tribe? Will he help or betray them? This will be in the book. Find out what will happen with Tenko, Kali, and Brocken.
I think this book is very good because it had very interesting scenes that I liked. My favorite character is Tenko because he is brave, courageous, and a great family member. I liked that they put a six year old, Brockan in the story. He made it interesting and funny! I think they made it very fascinating and unique by putting it in a very old setting. I liked that you could not guess what would happen in the end. There were many twists and turns. The illustrations were very good at describing what was happening. I did not like the killing though. At some point it was kind of gruesome. The one thing I really want is for them to make a sequel. The book ends at a cliffhanger!
I would recommend this book to people. I think you will really like it. If you love animals it might not be the choice for you. The age range in my opinion is 9-12 years old. If you like an action-packed cool book, you will like The Boy with the Bronze Axe. I bet you will think it's an amazing book.