The Boy with the Bronze Axe
Written by Kathleen Fidler
Illustrated by Edward Mortelmans
Reviewed by student in Ms. Daigle's 5th Grade Class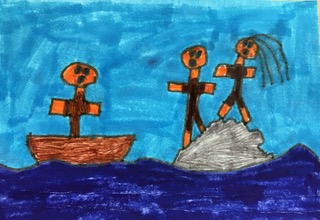 The Boy with the Bronze Axe starts with Kali and Brocken looking for limpets. They get trapped by the water and another strange boy named Tenko rescues them. I like this book because it is interesting and action filled.
My favorite part is the last two chapters because Tenko used all his knowledge to survive. I liked nearly all the characters. Tenko reminded me of my dad because he is brave and strong.
I strongly recommend this book because it is short, interesting, and action filled. I think everyone would like this book because it has a very interesting plot. All of you that like historical fiction please read this book. You won't regret reading it.