Riding Freedom
Written by Pam Ryan
Illustrated by Brian Selznick
Reviewed by Emily H. (age 11)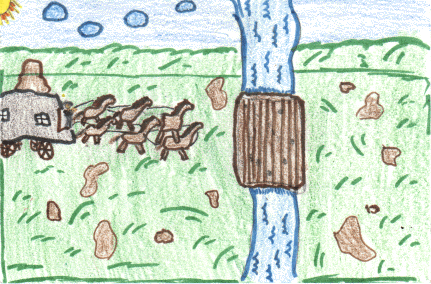 Riding Freedom is about a girl named Charlotte who lived in the 1800s. She was different because she did things that people didn't think girls should do. When Charlotte was young her parents died, and she had to go live in an orphanage. There she lived an unhappy life for many years. She did not like living there, but did enjoy going to the stables because she loved horses and became friends with Vern, the man who took care of the horses. At one point in the story she decided to run away, disguised as a boy! She was not discovered, and became a stage coach driver, changing her name to Charley. At the age of seventeen she moved to California and continued to be a stagecoach driver. With the money she earned, she bought a cabin and twenty-five acres of land, and people never discovered she was a girl.
I really liked this book because the author makes the reader feel all the emotions that the characters in the story experience. Charlotte was a very interesting character because even though she was a girl, she really seemed like a boy because of the way she dressed, looked, and acted. The wonderful black and white illustrations in the book are very detailed. I'm glad the illustrator didn't use color pictures because I really liked the black and white pictures in this book.
I liked this book so much that I plan to read it again. I would recommend it to others because it's supspenseful, funny, and full of surprises.