Bailey School Kids: Werewolves Don't Go to Summer Camp
Written by Debbie and Marcia Thorton Jones Dadey
Reviewed by Matilda K. (age 8) & Daniel T. (age 8)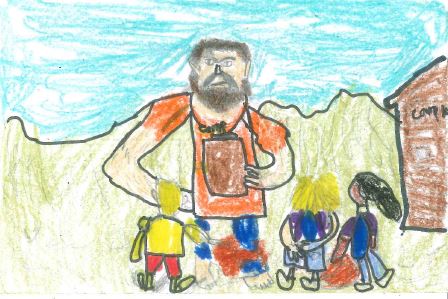 First, Eddite, Liza, Howie and Melody were going to Camp Lone Wolf for one whole week. When they got there, they see a big hairy man who turns out to be their camp counselor Mr. Jenkins. Next, when it was dinner they had raw hamburgers. Mr. Jenkins takes a big bite into the juicy hamburger and red stuff came out that looked like blood. Then, Mr. Jenkins said they had to go on a night hike. Eddie, Liza, Howie and Melody think that Mr. Jenkins is a werewolf. Will they make it? You will have to read the book to find out.
We think that the Baily School Kids, Werewolves Don't go to Summer Camp is a funny and scary book for two reasons. The first reason is that when Liza wants to keep the mistletoe. For examples, it was funny because she wanted to keep it until Christmas. It is scary because Eddie almost gets eaten by the wolf. He sleeps outside one night to show he is brave. Those were two reasons the book was funny and scary. Our favorite part was when Liza gets carried by Mr. Jenkins are with his shift off when he was all wet.
We recommend this book for ages 8 and up because there are some hard words to read.