Mr. Putter and Tabby See the Stars
Written by Cynthia Rylant
Illustrated by Arthur Howard
Reviewed by Nathaniel T. (age 7)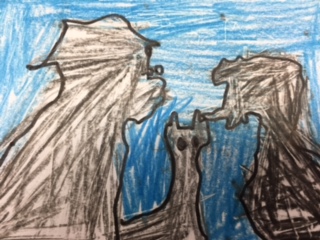 Mr. Putter and Tabby like to sleep and take naps. The take a nap in chairs, swings, the tub, and cars. Once they even fell asleep in Mr. Teaberry's laundry room.One day Mr. Putter and Tabby go over to Mrs. Teaberry's house because they cannot eat since Mr. Putter had a grumbling stomach. He looked up at the sky and saw all the star.
My favorite part is when Mr. Putter eats twenty-one jelly rolls because it was funny that he did not know how many he ate. My favorite character is Zeke because he brings notes to Mr. Putter. This story relates to my life because I like to watch the stars. The pictures helped show what was going on.
I think you should read this story because it is funny. It also has amazing pictures.