Dog Diaries Togo
Written by Kate Klimo
Illustrated by Tim Jessell
Reviewed by Bella D. (age 8)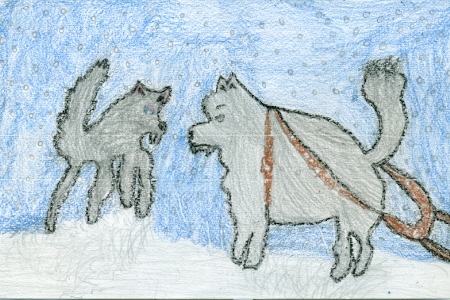 Dog Diaries Togo is an awesome book! I think you should read this book because if you like being brave then this book is good for you! The main character is a dog named Togo. Togo is a super brave sled dog! Togo needs to help his musher named Sepp. They are in a race. Will they win the race or loose the race? Will Togo be able to help Sepp? Go read the book to find out!
This book is my favorite book because it is enjoyable! My favorite part is when Togo jumped into the icy water because he was trying to save his sled dog friends. This reminded me when I saw a dog named Taco jump in the water to save a chipmunk. I think Balto is the most interesting dog in the book because he was trying to sabotage Togo in the race. Obviously I love this book because I love animals. You might love it too!
I recommend this book if you like adventures. Then this book is good for you! The type of reader who would enjoy this book are kids ages 8-10 years old. I think this book is good for boys and girls. I think it will interest the reader because there is a rescue and dogs try to help other dogs. When you have to stop reading you really don't want to and you really just want to keep on going!