Dolphin School
Written by Catherine Hapka
Reviewed by Mikayla S. (age 8)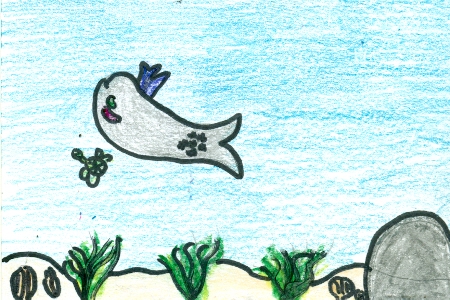 This is about dolphins having Show and Tell at their school. Pearl brings her pet turtle. Everybody loves the turtle. Echo is really jealous and sets out to find her own pet. Will she find her own pet? Read this book to find out.
I think this book is enjoyable because it has fantastic characters in it. This book reminds me when I go on a cruise ship we will see dolphins. In the book there are dolphins. I feel that the pictures are amazing even though the pictures are black and white. I think they are amazing because they are detailed. My favorite part is when the little baby turtle follows her to school every day. If you read this book what will be your favorite part?
I think this book would be good for 2nd to 3rd graders because this could be a little tough for 1st graders. This book is just right for 2nd and 3rd graders. I feel that a dolphin lover, and people who love creatures should read this book. I believe that the dolphins will interest you because the dolphins almost have a cheerful spirit.