Eerie Elementary School Freezes Over
Written by Jack Chabert
Illustrated by Sam Ricks
Reviewed by Adaeze C. (age 9)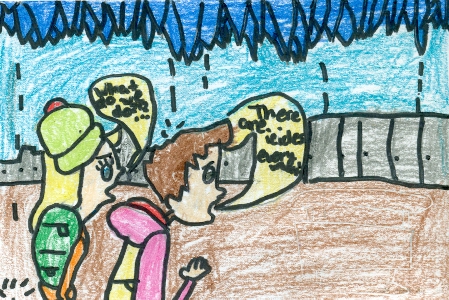 In this book, Sam and his friends, Lucy and Antonio, try and stop Orson Eerie, an evil mad scientist (who turned into the school!) from coming back in person! This time, Orson's plan is to come back in the freezing cold! He creates a huge blizzard which soon infests the school. Icicles drip from the ceiling and the hallway floors turn to ice! His book says he will return at 13 degrees! Will Sam and his friends unfreeze the thermostat in time in this heart racing adventure book?
My favorite part is when Sam and Lucy unfreeze Antonio. I like this part because it taught me that salt helps thaw ice and I like to learn new things. My favorite character in this book is Sam. I like Sam because he is brave and smart like me. There are illustrations in this book. I like the illustrations because they show what is happening in the book very well. The illustrations are in black and white.
I think you would like this book because it's very adventurous and funny. The pictures will help you understand the text. You may not like this book because it has black and white pictures. I would recommend this book to 1st-3rd grade boys and girls who like adventure books with twists and turns.