Risky Friends
Written by Julie Anne Peters
Reviewed by Haley C. (age 10)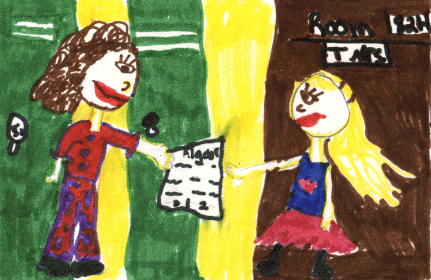 Kacie Shannon thinks she's going to have a bad day and wonders if things could get any worse. Just then she spills grape juice on her new white silk blouse. Now she's sure it's going to be a horrible day! Problems start when Skye Collinsworth, her least best friend, is having trouble in algebra class. Kacie decides to let her copy from her test, and now Skye won't leave her alone. As a result, eighth grade for Kacie will never be the same.
I really enjoyed this book because of the characters and how they deal with their problems in the story. My favorite character is Kacie because she always strives for the best and is kind and friendly, like the time she was willing to help Skye with her algebra and became her friend. My friend Alex reminds me of the character Skye because she sometimes goes too far in trying to get a friend. The best part of the story is when Kacie spills juice on her blouse. I can picture me doing that on the first day of school too.
Because this book is more challenging than other chapter books I've read, I would recommend it to older students. This book is filled with suspenseful times, laughter, and courage, like the time Kacie let Skye copy from her math test. I really enjoyed the book Risky Friends.