Fish Finelli: Seagulls Don't Eat Pickles
Written by E.S. Farber
Reviewed by Gianna C. (age 9)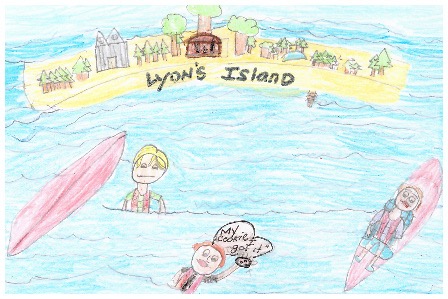 Bryce and Fish make a bet about finding a treasure on Lyons Island. Will Fish and his friends find the treasure? Or will he loose the bet and have to pay Bryce fifty dollars? Read Fish Finelli by E.S. Farber to follow the adventures of Fish and his friends on their hunt to find the treasure.
Fish Finelli is a book about friendship, adventures, mysteries, and hidden treasure. As the story goes, there was a pirate named Captain Kid who hid a treasure years ago. After making a bet with a bully named Bryce, Fish and his friends set out to find a hidden treasure. A man named Mystery Man tells Fish where to find the treasure map and the adventure begins. Some of the adventure includes sneaking into the library, hiding away on a boat, and trespassing on an island! They really want to find that treasure!!
I think Fish Finelli is a really good book. I enjoyed reading it because it was suspenseful and it had a lot of adventures in it. It kept me very interested. My favorite part was when Fish and T.J. fell off their canoe because Bryce came speeding by on his big boat. I like this part because the tools were floating away and T.J. said "I got it!" The funny part was he got his cookie instead of the tools and decided to eat it all soggy and wet. The character T.J. reminds me of my sister Alexa, because both of them are always thinking about food. They are always hungry and always make a mess while eating.
In conclusion, this book is perfect for kids who like adventures and mysteries. If you like books with humor and that keep you on the edge of your seat, then go to the library and find this book!