The Worst Name in Third Grade
Written by Debbie Dadey
Reviewed by Katherine V. (age 8)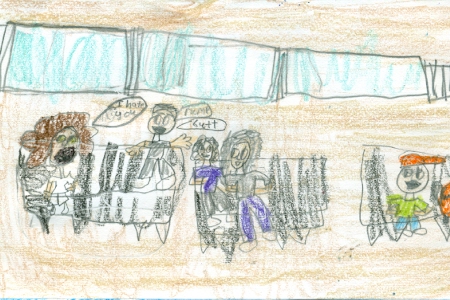 If you like books that make you feel something then read The Worst Name in Third Grade. It's about a girl named Bridget Butt. I know what you're thinking. I thought the same thing. The kids tease her about her name. Her teacher makes her feel better but then when her teacher moves away she is in trouble. Read this book to find out what happens when her teacher moves away.
I enjoyed this book very much. My favorite part is when there were no more seats on the bus so Bridget had to sit with Mikey Parsons. He is one of the boys that bothers her and calls her "Rump Roast." I felt really bad for Bridget throughout this book. I felt bad that she had such an embarrassing last name. It made me especially sad when she cried in the bathroom after she yelled at her teacher and her friends wouldn't sit with her anymore. If this happened to me I would be so embarrassed and guilty, too. This book reminds me of another book called Ragweed because in this book Bridget felt jealous of her friend and in Ragweed, Ragweed was jealous of his friend, too.
Other kids would like this book because other kids will feel something just like me because she was going through a hard time in her life. We all go through hard times in our lives. The author's purpose is to tell you to move on with life and don't hold on or it will hurt more when you decide to finally let it go. Kids in third grade would love this book.