Dinosaur Boy
Written by Cory Oakes
Reviewed by Nico C. (age 9)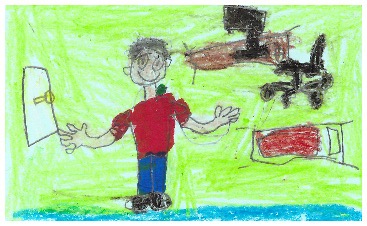 Come and join Sawyer the dinosaur boy and his friends on a wonderful adventure, by Corey Putman Oakes.
This story starts with Sawyer getting a bump on the back of his neck. That bump on his back turned out to be a plate, which is the beginning of Sawyer realizing he is turning into a dinosaur. Sawyer is turning into a dinosaur because his grandfather is a dinosaur too. Sawyer is made fun of at school because he is a dinosaur. Most of the kids are mean to Sawyer except for his two friends Elliot and Sylvie. All that kids who got expelled for bullying Sawyer are disappearing, and Sawyer and his friends are trying to find them. It is up to them to figure out who is responsible for this, and that person is someone that they know very well.
I enjoyed this book because it was a funny book and a boy turned into a dinosaur. I happen to like dinosaurs so that helped me enjoy it too. My favorite part of the book was when Sawyer's friend Sylvie confesses that she is a Martian. I like this part because Sawyer and Sylvie turn out to be different from all the other kids. I thought it is sad that Sawyer cannot become a normal kid again and has to be a dinosaur for the rest of his life. That would be a hard thing to understand!
In conclusion, I think kids in third grade and up would like this book because it is a funny, interesting story. So if you are planning to read a book, please read Dinosaur Boy because I think you would really enjoy it.