Werewolves Don't Go to Summer Camp
Written by Debbie and Marcia Thorton Jones Dadey
Reviewed by Liam B. (age 8)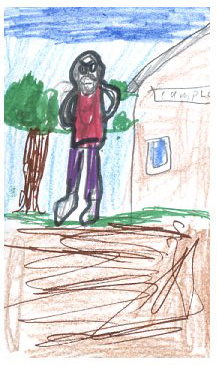 In the beginning, the Bailey School Kids are going to summer camp. Their names are Liza, Melody, Ed and Howie. Liza is scared to go to summer camp. Melody is trying to convince Liza to go. When they get there, the Bailey School Kids think their counselor, Mr. Jenkins, is so hairy and they think he's a werewolf. Later that night, the Bailey School Kids go into Mr. Jenkin's cabin and they find a book about werewolves. The book says you need to use wolf's bane and mistletoe to cure it. Read the book to see if Mr. Jenkins gets cured or not.
The book is awesome!!!! In the story, the problem is that Mr. Jenkins is a werewolf and the Bailey School Kids are trying to cure him. The pictures and illustrations are cool. One example is when Mr. Jenkins is eating a juicy hamburger. My third opinion is that the descriptions are also good. One example is when the Bailey School Kids were going to put mistletoe and wolf's bane in Mr. Jenkin's backpack. The author described this very well.
I would recommend this book to people who like mysteries. One reason is that the story teaches you how to solve a problem. Another reason is that it teaches you how to be clever. This is such an awesome book and you should read it.