Return to the Isle of the Lost
Written by Melissa de la Cruz
Reviewed by Addison W. (age 10)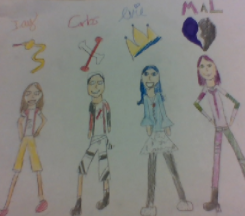 In Return to the Isle of the Lost, a girl, Mal the daughter of maleficent, a girl, Evie the daughter of Evil queen, Carlos, the son of Cruella de Vil, and Jay, son of Jafar. They all go to a place to Aradon, but after they have lived there for about a year from their old home, the Isle of the Lost, they each get weird messages that say they are from the isle. Mal, Evie, Jay and Carlos make a plan to get back to the Isle of the Lost. After they leave there is trouble back in Aradon. There is a dragon that is trying to kill the royals. It's breathing fire at them.
It's an exciting book, but also a little scary. Its adventures are fun and funny. I think this book is about courage and friendship. Mal and Evie are best friends and they get into a little fight. Evie stops having a little trust for Mal, but she starts to forgive her. That reminds me of how great of friends I have. This book is the second book to the Isle of the Lost. So read that one first I recommend.
This book is mostly for 10-13 year olds read this book to find out what happens. I highly recommend it. Most girls would like this book not really boys. It's more about the friendship, more like girl friendships.