Cupcake Cousins
Written by Kate Hannigan
Illustrated by Brooke Boynton Hughes
Reviewed by Gabby L. (age 9)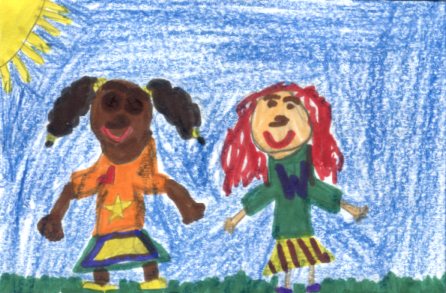 In Cupcake Cousins Willow and Delia are cousins. Willow and Delia love to bake cupcakes, cookies, lemonade and other kinds of delicious desserts in their free time. One day Willow and Delia try to make a blueberry smoothie, but when they try to blend it, it explodes everywhere in Cat's kitchen! That day gets even worse. Willow and Delia's Aunt Rosie tells them what they are going to wear for her wedding. They think their dresses are ugly so they try to convince Aunt Rosie to let them wear something else. A couple of weeks later Cat falls asleep on Aunt Rosie's wedding cake and ruins the bottom layer of cake! In the end Willow and Delia find a way to fix the ruined part of cake and get it to the wedding in time.
I love Cupcake Cousins because I feel like Willow and Delia are like me. I feel like they're like me because even though I am not that good at it I really like to bake. Another reason I think they're like me is because they are very nice and I like people that are very nice. As you can see, I really like Willow and Delia. My favorite part was when Willow and Delia try to blend a blueberry smoothie and it explodes everywhere! Willow and Delia are sad because guess where it exploded – all over Cat's kitchen! It was my favorite part because it was very funny and if that happened to me it would get all over me (but it would be very yummy)! I felt very curious at some parts and I was nervous at the end. At the end it made me nervous because I wondered if Willow and Delia we're going to make it to the wedding in time.
I recommend Cupcake Cousins to third and fourth graders who love to bake. This book is full of nice people and some very good bakers.