Cupcake Cousins
Written by Kate Hannigan
Illustrated by Brooke Boynton Hughes
Reviewed by Samantha S. (age 9)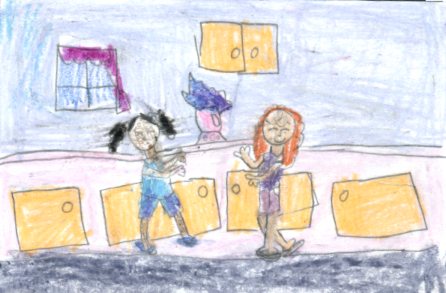 In Cupcake Cousins Willow is packing for her trip. She is going on vacation with her cousin Delia and her family. She is going to be in a Wedding and she does not want to wear her flower girl dress. When they arrive at their vacation spot, she starts to make blueberry smoothies in a broken blender and it explodes. It was everywhere. Willow and Delia and their Dads go picking peaches to make peach pancakes for breakfast. Willow's brother finds a baby goose and keeps it for a pet. The whole story is about friends and family and cooking together. Kat is the cook for the Wedding and she falls asleep on the bottom layer of the Wedding cake and ruins the cake. No one knows except Willow, Delia and sweet little William because Willow makes a new cake.
I loved when Willow tried to make a smoothie but the blender was broken. It blew up and smoothie was everywhere. It was a mess! It was hilarious! My favorite part is when Kat slept on the cake it was funny because she fell asleep on a cake. I love Willow because she is nice and funny and knows how to make you laugh and smile and likes to cook.
I recommend "Cupcake Cousins" it is a fantastic book for all ages of people who love cooking with their friends and family.