Dory Fantasmagory
Written by Abby Hanlon
Reviewed by GJ R. (age 9)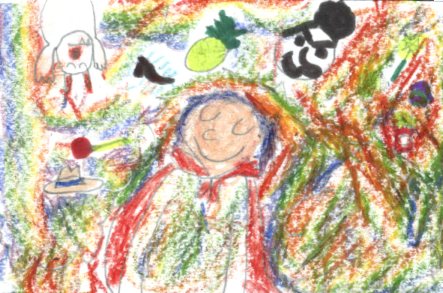 Once upon a time in Dory Fantasmagory, Dory was a little with one big Imagination. Dory has an imaginary monster friend whose name is Mary. Dory loves playing with Mary. Dory has two siblings they do not like Dory at all. So one day Dory's big brother and sister had enough of her so they try to scare her, it barely scared her. All they did was tell a story of this girl named Mrs. Gobble Gracker, she's a witch. Then one day they went in the back yard and suddenly saw dwarf it jumped and said "I'm going to grant ALL your wishes cause I'm your fairy God Mother So what would you like "? Dory then said "a disguise so I can escape Mrs. Gobble Gracker." "POOF" she got turned into a… Well you'll just have to read it to find out.
I love the book "Dory Fantasmagory" because in my opinion the pictures are very cute. My favorite picture is when Dory dresses up in her "fairy god mother" (that's a boy) into a dress. The second reason I love "Dory Fatasmagory" is the way her imagination works. Two characters I liked are Dory (which is the main character of the book) and Dory's friend Mary. Mary is very funny and imaginary friend and in this book I feel Dory's favorite being is Mary. My favorite part in "Dory Fantasmagory" was when Dory wears a cow costume because she made Mrs. Gobble Gracker sleep for 100 years and she worries 100 years would go too quick.
I recommend "Dory Fantasmagory" to 2nd and 3rd graders who like or love books with pictures and who like silly things.