Nelson Mandela
Written by Kadir Nelson
Illustrated by Nelson, Kadir
Reviewed by Leslie G. (age 11)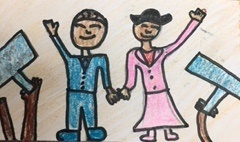 Did you know that in South Africa, kids don't have to go to school? Only some are picked to go to school and Nelson Mandela was one of them. Nelson Mandela had nine brothers and sisters but he didn't live with them once he attended school because that was miles away. As he grew up in the town where he went to school he became offended by how the teachers treated him. He felt like they were harder on him and they picked on him because he was African, not Indian, not European. He didn't like that the country split apart people by the skin color. This was called, apartheid. Nelson fought against apartheid his entire life because he wanted people to be treated equally and fairly. He was never treated equally like other whites. After 27 years in jail, he was freed and ran for president.
I love this book because it shows that not everyone was treated equally and we should appreciate what we have and how people treat us in America. My favorite part of the book was when he found his true love, Winnie! Winnie's character was a favorite because even though she knew that she could get killed, she still stood up for freedom rights and she still stood by Nelson's side.
The book made me feel grateful for what I have because not everyone can afford going to school or buying new cloths. I can make a connection to when Nelson Mandela said "...days turned into week, months, and years..." because when I was waiting for my new glasses to come in, it felt like years. I liked how the author wrote because he used simple words for kids to understand.
I recommend this book to kids who love reading about history and love to see how people lived in Africa. Both genders can read this book because it does not have anything that is just for girls or boys. I think that this is a good book for 5th grade because some of the vocabulary and history facts are for older students. I don't think that adults would like to read this book because it is a very low reading level.