Annie and Snowball and the Thankful Friends
Written by Cynthia Rylant
Illustrated by Sucie Stevenson
Reviewed by Brooke L. (age 7)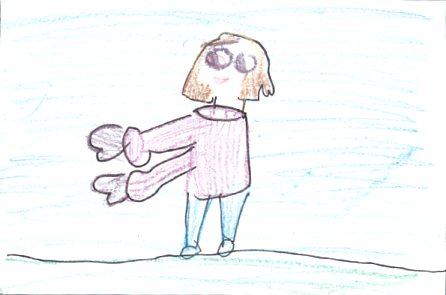 Junie B.'s grandpa named Frank bought Junie B. black mittens for no good reason. Junie B. wore black mittens to school. When she was playing with her friends, she felt hot, so she took off her mittens and jacket and piled them next to a tree. When the bell rang, Junie B. went to the tree. Then she saw her mittens were goine. She yelled, SOMEONE STOLE MY MITTENS!" When school was over, she went to her grandpa and she wanted to go tot the mitten store, but Grandpa said no. When it was morning, Junie B. went to school. She looked for the crook. When the bell rang, she saw a girl with her mittens. The teacher talked to the other girl and and then handed the mittens to Junie B.
My favorite part of the story is when Frank bought June B. some mittens because it made her happy. Frank is my favorite character, even if he wasn't in the story that much. This story relates to my life because I'v lost things at home before. The pictures show the same thing as the words.
I think others should read this story because it helps people understand that there are no crooks in this place. This story is funny, sweet, and has a happy ending.