Henry and Mudge and the Wild Goose Chase
Written by Cynthia Rylant
Illustrated by Carolyn Bracken
Reviewed by Justin K. (age 7), Dana T. (age 7) & Shawhin F. (age 7)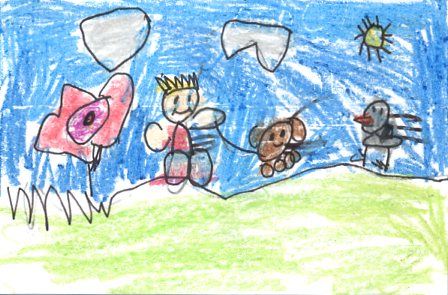 Henry and Mudge are going to the farm. First Henry and Mudge daydream about eggs and fresh blueberries. Mom dreams about corn. Next, the family for goes to French's farm. Some ducks were marching in their way. Henry and Mudge meet a goat that tries to eat Henry's shirt. Mudge chases the goose, but stops when the goose goes in the house. They have a a great time at the farm.
Our favorite part is when they get chased by the goat because it was really funny. Our favorite character is the white goose because it likes to chase everyone. The story relates to our lives because we have been chased by a duck before. This story has pictures that show what's going on.
We think others should read this story because Henry and Mudge are popular characters and have many adventures. This story is funny, has nature, and is fictional.