potterwookiee
Written by Obert Skye
Reviewed by Everett W. (age 11)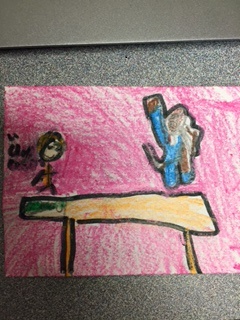 How would you feel if your best friend had to leave? When Robert had to clean his room he just shoved everything into his closet. One day he heard weird noises coming from that closet and inside was a creature called a POTTERWOOKIEE. A potterwookiee is half Harry Potter, and half Wookiee from Star Wars. The reason he is a potterwookiee is because his chemistry set spilled on two dolls and that created them. While Robert was trying to figure out what a Potterwookiee was, he had two big adventures. One adventure happened when he was doing research at the library to figure out what a Potterwookiee was and the other adventure was being on a television show. Each time there was an adventure, the Potterwookiee would stop time for Robert and they would solve the problems. The boy and the creature become such good friends but you will have to read the book to find out what happens to their friendship.
I thought this book was fantastic, because of the adventure and spells. My favorite person in this book was Potterwookiee because of the cool things they did with the spells. My favorite part was getting his bike because of the man that was running after him. The book will make you laugh for the things they did. I like Obert Skye's writing style because of how he describes the magic.
I think this book is for 4-8 graders because of the magical thing the book has like spells and adventures.